Statistics
We have
25
registered users
The newest registered user is
marjnelw
Our users have posted a total of
475
messages in
73
subjects
So i made this deck in RL and it works prity darn well. The only major problem i seem to have with it is consistency. Me and Omni have worked around it and have tried different things. So i thought i would ask you guys if you also had any ideas for the deck.
*Things i want out of it*
It is a strait up dragon deck...i know there are other and better cards for the extra deck but i want what is in there to be there. No ifs ands or buts.
I want all the Red-Eye fusions because it is a Red-Eyes deck and they are perfect farder for DR Red Targets.
Lastly i own this deck in RL and would like to keep all the cards suggested TCG only.
https://i.imgur.com/9LjZ94Z.png
Team Ice Veteran Member





Posts

: 65


Join date

: 2013-04-10


Age

: 29


Location

: In the scrapyard



yes they are indeed but do you have anything constructive you can recommend?
nope ^-^ I'm not a deck builder, as shown my my massive losing streak
Team Ice Veteran Member





Posts

: 65


Join date

: 2013-04-10


Age

: 29


Location

: In the scrapyard



1st order of business, cards you need to drop:
1 - Get rid of Summoned Skull, and the fusion for it too. It gives you space in your extra deck, and leaves open for combinations i'll explain later
2 - Drop both Bright Star Dragons. A card effect that can only activate upon Normal Summoning only will slow your deck down
3 - Drop the Totem Dragon, all the Red-Eyes Wyvern, the Interplanetarypurplythorny Dragon, the Montage Dragon, both The Red-Eyes Chicks, Darkflare Dragon, and the Influence Dragon--as they are going to be worthless and unneeded
4 - Drop Summoner Monk, the Polymerization, the Mosnter Gate, and the Inferno Fire Blast
5 - (For now, as you're reading this) Drop EVERYTHING in your Extra deck, it'll be rebuilt later
Second part--adding in monsters for quick and good combinations:
1 - Add 3 Tefnuit, a second Meteor Dragon, a second Debris Dragon, 2 Eset, and 1-2 Decoy Dragons (hilarious little tech)
2 - Add 1-2 Monster Reincarnation OR (since you run Apocralyph) another Lightning Vortex (but a Dark Core can be a nice tech), a Card Destruction, a "return from a different dimension", Wingbeat of Giant Dragon (I'll explain why), /maybe/ a couple MSTs, and the Solemn Duo
The Extra Deck should contain AT LEAST the following:
x1 Black Rose Dragon
x1 Ancient Fairy Dragon
x1 Hieratic Dragon King of Atum
x1 Queen Dragon Djinn
x1 Gaia Dragon, the Thunder Charger
x1 Big Eye
x1 Messier 7
x1 Lavalval Chain
x1 FHD
x1 Meteor B. Dragon
Everything else is preference
Combinations:
1 - Wingbeat of Giant Dragon. Special Summon Tefnuit from hand, activate Wingbeat, return Tefnuit to hand, blow up your opponent's backrow, Special Summon Tefnuit again
2 - Decoy Dragon = Free Red-Eyes (all of them), and your lvl 7 Synchros, but only when it's attacked...do NOT ever attack with this card. And yes, this card MUST be in face-up for it's effect to work
3 - Activate Dragon's Mirror, banish cards for FHD, then activate Return from the Different Dimension...now you're entire field is filled with monsters
4 - Summon Atum (XYZ Card), activate effect, summon Normal Monster Red-Eyes from deck, tribute for Red-Eyes Darkness Dragon in hand (hopefully)
5a - Special Summon Tefnuit, normal summon Eset (using Tefnuit) special summon Meteor Dragon, use Eset effect, making all Hieratics on the field lvl 6, overlay for any Rank 6
5b - Same as above, except you special summon Red-Eyes, make all Hieratics on the field lvl 7, then overlay for any rank 7
My build looks like the following. Keep in mind it has MY personal preferences. There are many other ways to do this. The list above is what should MOST LIKELY be taken out, and what MOST LIKELY be put back in
http://prntscr.com/10slb8
Enjoy
_________________
I'm a YugiTuber! Here's my Channel:
https://www.youtube.com/user/CreedSheridan?feature=mhee
I'm also a writer. Here's my account on DeviantArt:
http://callmeshameless.deviantart.com/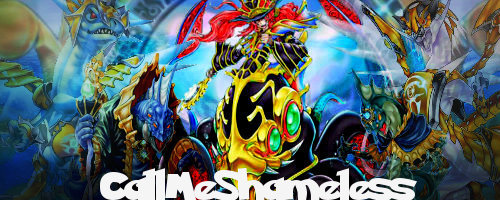 Team Ice Administrator







Posts

: 34


Join date

: 2013-04-09



thanks for the advice ill modify it now and see how it works...though i am keeping a few things i want
Similar topics
---
Permissions in this forum:
You
cannot
reply to topics in this forum